Archives for January 2019
24
January 2019
23
January 2019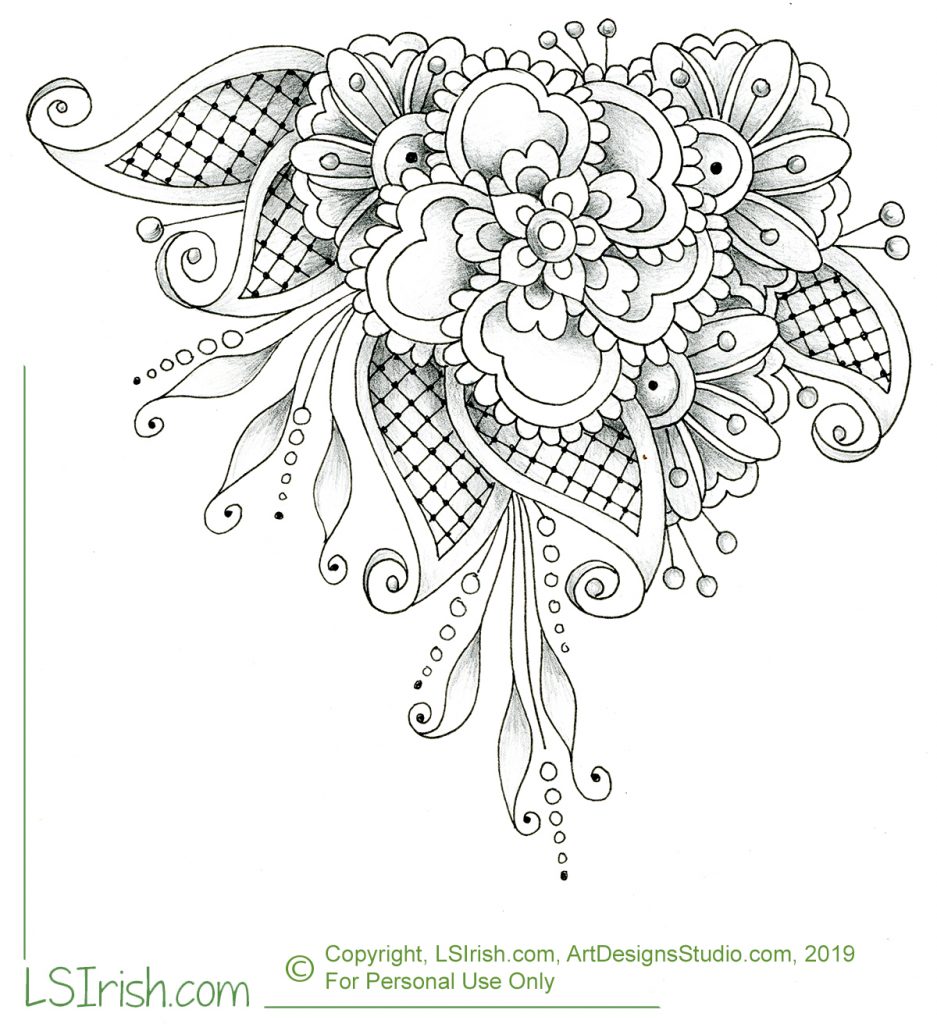 What can you do with all these free doodle patterns from my Artist's Morgue?
Painted Blue Jeans, Free Patterns
Painted Blue Jeans 2, Free Craft Patterns
Doodle Wind Chimes, Free Craft Project
Free Doodle Patterns Pin Cushion
And so much more ….
23
January 2019
This simple flower wood carving is worked from the practice board project in Relief Wood Carving Workshop by Lora S. Irish.  This practice board, which includes 22 specific techniques for relief wood carving and 3 small flower designs, allows you to learn and explore the cutting strokes each of your wood carving tools creates.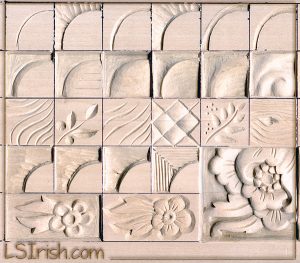 PRACTICE CARVING ONE
This super simple flower pattern will walk you through many of the basic techniques learned in this practice board chapter.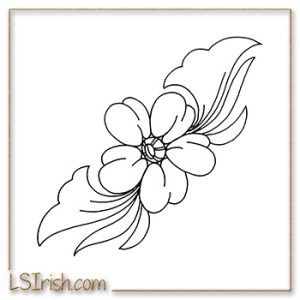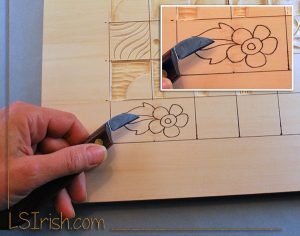 Step 1 Trace your pattern to your practice board using graphite paper.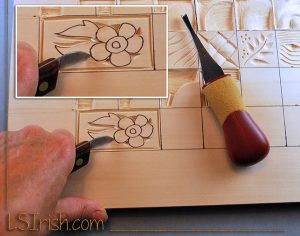 Step 2 Create a bench knife stop cut along the outer edges of the pattern.  Cut triangular chip cuts in the background corners of the petals.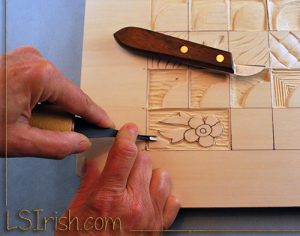 Step 3 Working with the grain of the wood rough cut the background using a medium round gouge.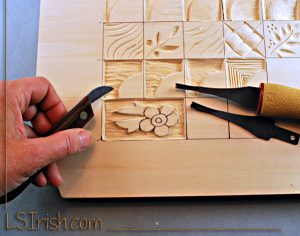 Step 4 Rough cut the background to a depth of 3/16", making straight outer walls on your design elements.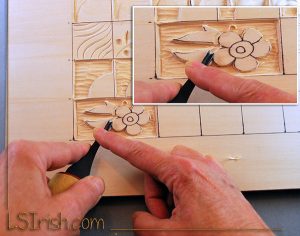 Step 5 Create a stop cut using your v-gouge between the leave elements and the flower petals.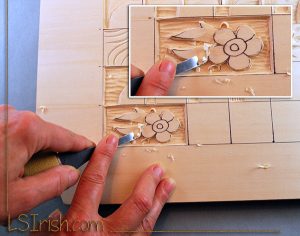 Step 6 Using a straight chisel taper the base of the leaf into the flower petals. Taper the outer leaf point away from the flower. This gives the leaves a convex curve.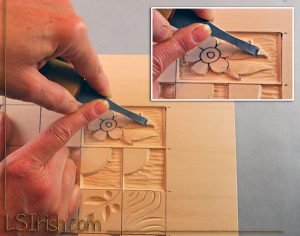 Step 7 Taper the long sides of the leaves towards the background using your straight chisel.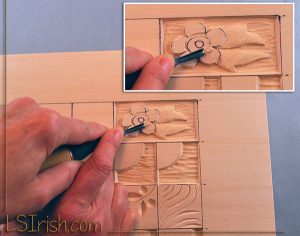 Step 8 V-gouge stop cut the center circle of the flower.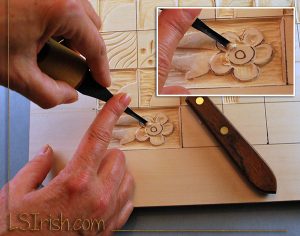 Step 9 Using a medium round gouge or medium u-gouge create a concave indent inside of each petal.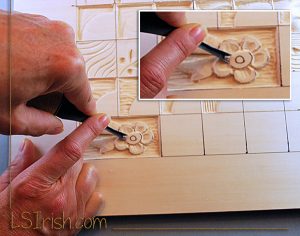 Step 10 Separate each petal using your v-gouge and a stop cut.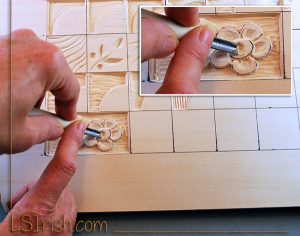 Step 11 Up-end a medium or large round gouge to cut the inner circle of the flower center.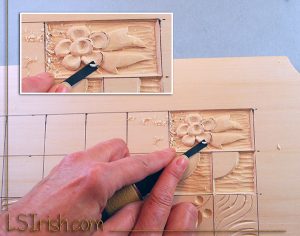 Step 12 Using your straight chisel round over the outer edges of the petals.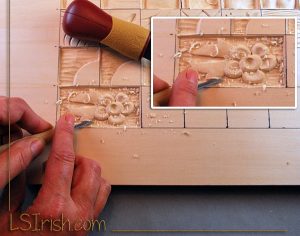 Step 13 Smooth the carving by shaving each element – leaves, petals, and flower center. Re-cut the intersection joint lines between the elements and the background.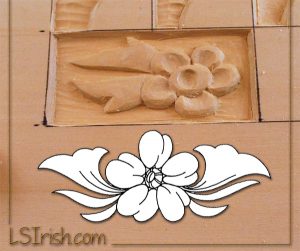 Step 14 with a few more cleaning cuts and a touch of sanding using 220 grit sandpaper this carving will be completed and ready for either the painting steps or the finishing steps.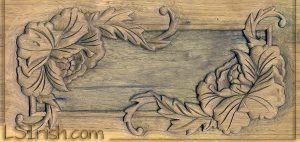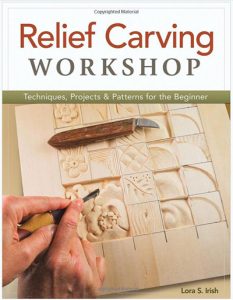 Relief Wood Carving Workshop
Clear, in-depth instructions
Step-by-step exercises
How-to photographs
11 original projects for the first time relief carver
Relief Carving the Wood Spirit
With this book any carver can stand beside the workbench of acclaimed artist Lora S. Irish and learn everything she has to teach about creating an expressive wood spirit. Lora clearly explains the relief carving process from start to finish: every cut, every tool change, and every depth check. The entire craft is here, from preparing the wood to roughing out and detailing the wood spirit to applying a long-lasting finish. No step is left out and no technique is left unexplained. The author shares her tips for creating realistic and detailed facial features like eyelids, windswept hair, beards, and the ever-important mustache. Best of all, when the step-by-step project is complete, Relief Carving Wood Spirits, Revised Edition offers 20 more original patterns to keep any carver busy for seasons to come.
23
January 2019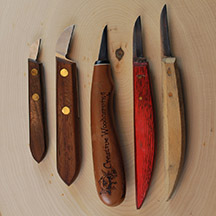 As a beginning carver, the choice of carving tools available can be overwhelming. Which tools you really need to learn this craft and which tools you really will use can be a hard decision. There are several basic tool shapes that are standard to this hobby.  Take a quick look at the different tool profiles available for your use.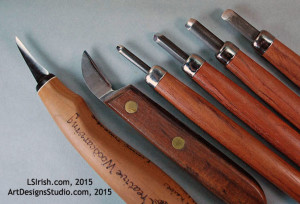 Beginner's Whittling and relief Carving Tool Kit
A basic relief carving or whittling tool set contains far more than just your carving tools and knives. Let's take an in-depth look at some of the common supplies you may use in your carving craft. All photos in this article are large-sized and labeled. Please click on any image to show the full-sized photo.
Here is a quick visual close-up of some of my favorite carving tools. This grouping will eventually find their way onto the work table during any carving project. The vast majority of the tools show here are between 25 and 40 years old since most are inherited from my father's many years of wood carving. Your investment in good quality tools will last beyond your life time.
18
January 2019
Doodle Days #13 –  Blue Jean Painting, Wood Burn Spoons, Wood Carved Spoons, Leather Work, Free Lora S. Irish Patterns to Download, DIY Bookmaking, Bullet Journals, Scrap Booking, Card Making, Applique Quilting, Pyrography, Wood Carving
Painted Blue Jeans using our Free Doodle Patterns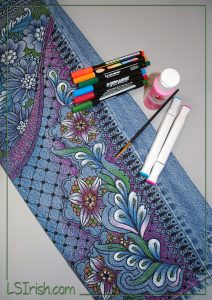 Supplies:
1 pair of medium-blue blue jeans
1 cork-backed ruler
1-3 fine-point black fabric pens
1 set of 18 to 24 colors, medium-point fabric marking pens
1 set of assorted color fabric marking pens
1 piece of scrap cardboard, large enough to slide inside the pant's leg
steam iron
Colore Dual Tip Fabric Markers
Super Markers Fabric and T-Shirt Permanent Ink Pens
Sharpie Fine Point Markers, 36 piece set
Apple Barrel Acrylic Paint Set, 18 Piece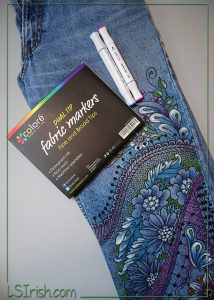 Step 1:  Pre-wash your jeans to remove any starch or stabilizing chemicals.  Dry the jeans thoroughly before you begin painting.
Step 2:  Download your copies of our Free Doodle Patterns, here on LSIrish.com.  Type doodles into the search box in the header.  We are on numbers 043 to 045 today, which should give you a nice selection of designs to use.
Step 3:  Cut the scrap cardboard to fit inside of the pant's leg, so that one end of the cardboard comes out the pant's leg at the bottom.  You can move this cardboard as you work to protect the jeans from color blending through to the other side of the jeans.
Step 4:  With a black fabric marking pen begin doodling … use a light pressure on the pen tip for the smoothest and fullest line coverage.  Mix your main designs with long flowing line breaks and fill patterns.
Step 5:  Use a cork-backed ruler, laid along the inner leg seam line for your measurements for the edge trim design.  The cork will grab the fabric, keeping the ruler in place as you work.  My inner leg trim was worked at 1/2″ measurements.
Step 6: Have fun adding colors to your design.  Fill in some areas with a solid coloring, and in others just add a touch of line work.  Let some areas remain unpainted to allow the blue jean color to become part of your design.
Step 7:  Set your fabric pen colors according to your package directions.  My set only required a hot, steam pressing to become permanent coloring.
Step 8:  Flip your jeans over and do the back side of the leg.
Step 9:  You can create doodle designs on  the 6 1/2″ square white cotton fabric pieces using this same method and add them to your pants.  Fill in some areas of your pattern with the bright colors from your set.  After the patch has been hot, steam ironed it is ready to sew into place, anywhere on your doodle jeans.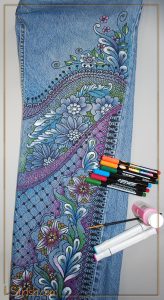 Steam Punk Pattern Pack at Lora S. Irish' pattern website, ArtDesignsStudio.com