Celtic Knot Birds Postage Stamp
Step-by-step pyrography project featuring a Celtic Knot Bird in a Postage Stamp design.
Pyrography on Paper
Learn how to use watercolor paper, and other artist quality papers for your wood burning patterns.  Create your own greeting cards, scrapbook pages, and journal covers using watercolor paper and your pyrography pen.
Leather Purse Pyrography
Explore leather as a pyrography media in the construction and burning of this Greenman Slop Bag.  Worked from a scrap package, available through many leather supply stores, this projects is a great practice board for those who wish to learn leather burning.
Mule Deer Relief Carving Seminar
This Mule Deer Buck Relief Carving Project, by Lora Irish, is an in-depth, step-by-step tutorial for the first time carver. As we work through each step to this relief wood carving we will explore the basic techniques, tools, and process to create the Mule Deer portrait, feather border, and arrow-head design. Includes two free Lora S. Irish patterns.
Whittle Tiki Chess Set Carving
The free online wood carving project is perfect for the new beginner carve to learn the basic cuts, tools, and techniques used in wood carving. This project includes a free download wood carving pattern package featuring 18 patterns for this chess set.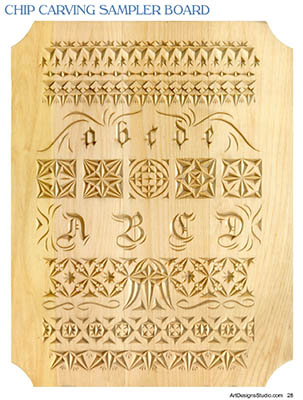 Chip Carving Seminar
This wonderful style of wood carving uses geometric and free form cut chips to create intricate designs. This free seminar is only being offered here on my blog, so please lets your friends and fellow carvers on your favorite message boards know!