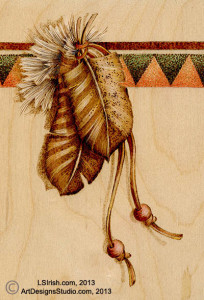 Pyrography became popular during Victorian times and today is seeing a true revival of this art.  Join Lora S. Irish, author of over twenty wood carving, wood burning, pyrography, and pattern books, as she teaches you the skills and techniques used in this craft.  Learn about the different wood burning tools including variable temperature tools, one temperature tools, and wood burning tool tips.  Irish will take you through the steps to discover how to shade your wood burning pattern using sepia tones, textures, and fine line detailing.   Step by step instructions are offered for tracing and transferring your pattern, how to prepare your wood surface, and for how to finish a wood burning design.  Also explore all of the wonderful different medias you can use in your pyrography as leather, paper, gourds, cotton cloth, and even chipboard scrap book pages.
After working through the basic techniques Lora Irish will show you how to wood burn a Christmas Holiday card,  a Ceremonial Mask, a Feather border, how to fur animal fur, how to create human portraits, and so many more ideas in her free, online pyrography projects area. Discover how to plan for your dark and light shading and how to use layers of sepia shading to create a realistic styled pyrography work, and how to add coloring over your wood burnings.
We hope you enjoy your visit, please bookmark our site so that you can return time after time.
LSIrish.com
LSIrish.com now offers over 550 pages of free, online projects and patterns for wood carving, relief carving,
whittling, wood burning, pyrography, painting, paper crafts, quilting, and gourd art. Many of our free craft projects
have multiple pages, please Book Mark our site for your convenience.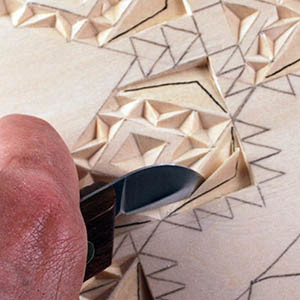 New Free Chip Carving Seminar – January 2014
Chip Carving Seminar by Lora Irish
Chip Carving Seminar
Chip Carving Supplies
Chip Carving Graphed Patterns
Chip Carving Hand Positions and Grips
Chip Carving – Triangles and Square Chips
Chip Carving – Straight-Wall Chips
Chip Caved Game and Chess Board
Chip Carving Sampler Pattern Layout
Chip Carving Common Mistakes
Chip Carved Shortbread Cookies
---
Relief Carving
Relief Carving
Levels in Relief Wood Carving
Dramatic Shadows
Undercutting Technique
Level Changes, Elements
Dramatic Shadows Pattern
---
Special Carving Techniques
Introduction to Love Spoons
Welsh Love Spoons 1
Welsh Love Spoons 2
Basic Cutting Techniques
Carving A Chain and Ball
Ball and Cage Carving
Wood Spirit Carving
Canes and Walking Sticks
Russian Birch Bark Carving
Chip Carving
Sharpening Your Chip Knives
Positive Space in Chip Carving
---
Carving Finishes
Finishing Your Project
Preparing for Finishing
Stains, Oils, and Washes
Oil, Wax, and Urethane
Carving Session Preparation
The Depth Of The Levels
Your First Carving Pattern
---
Carving Wood
Basics to Wood
Woodcarving Basics
Carving Woods
Glossary to Mail Wood
Australian Carving Woods
Glossary to Mail Order Wood
Working With Wood Grain
Softwood & Hardwood
---
Carving Tools
Tools and Tool Kits
Basic Carving Tools
The Beginner's Tool Kit
Bracing Table Relief Carving
Carving Tools Close-Up
Sharpening Your Tools
Sharpening Stones
Sharpening Bench Knives
Sharpening Round Gouges
Bull Nose Chisel
---
Working with Patterns
Working with Your Patterns
Transferring the Pattern
Pounce Patterns
Enlarging and Reducing
Simplifying a Pattern
Working with Levels
Lettering Layouts
Dividing a Circle
Free Form Patterns
Cattle Branding Layouts
Creating a Perfect Circle
---
Relief Carving Techniques
Background Treatments
Basic Cuts and Carving Tips
Stop Cut in Relief
Low Relief Carving
High Relief Carving
Smoothing the Background
Laminating
Using a Depth Gauge
Smoothing Backgrounds
Working with the Grain
Adding Drama through Shadows
---
Specialized Techniques
Incised Carving
Wood Block Prints
Intaglio Carving
Pyrography Tutorials
Pyrography Leather Journal
Fundamentals & Techniques
Pyrography Practice Boards
Simple Shading Wood Burning
Tonal Value Sepia Worksheet
The Basic Wood Burning Tool
Basic Wood Burning Strokes
Wood Burning Techniques
Coloring Wood Burned Projects
Wood Burning Sepia Values
Mapping Your Burning Pattern
Wood Burning Animal Fur
---
Pyrography Projects
Carousel Horse Wood Burning
Blue Heron Tavern Pyrography
Wine Caddy Sunflower Design
Pyrography, Working in Layers
Simple Pyrography Shading
Steps for Portrait Burning
Wood Burning American Hero
Cougar Pyrography
Pyrography Feather 2
Pyrography Feather 1
Ceremonial Mask Pyro 5
Ceremonial Mask Pyro 4
Ceremonial Mask Pyro 3
Ceremonial Mask Pyro 2
Ceremonial Mask Pryo
---
Painting & Coloring
Coloring Your Project
Adding Skin Colors
Basics to Painting
Acrylics over a Primer
China Painting with Acrylics
Dry Brushed Acrylics
Marbling & Splatter Painting
Simple Dry Brushing
Vintage Painting
Painting Supplies
Paint Kit Supplies for Painting
Steps to Success, Painting
Burnishing Your Wood Carving
Simple Blending Acrylic Paints
Techniques for Painting
Basics to Painting
Painting Eyes
Watercolors & Wood Burning
The Color Wheel
Dry Brushing
Gourd Art
Braided Raffia Gourd Rim
Wood Spirit Gourd Mask
Wood Spirit Gourd Jar
---
Paper Crafts
Scrapbook Tags
Colored Pencils
Celtic Bird Pattern Paper Bag
Backgammon Board
---
Quilting Tutorials
Marker Painted Quilt Square
Fretwork Butterfly Art Quilt
---
Scroll Saw Tutorials
Fundamentals and Techniques
The Basics about Wood
Scroll Sawed Layered Santa
---
---
Patterns
3-D Pattern Packs
Animal and Wildlife Packs
Birds and Waterfowl Patterns
Botanical and Flower Patterns
Celtic Knot Pattern Packs
Dragons, Gargoyles Patterns
Furniture and Architectural
Holiday Pattern Packs
Landscape and Farm Scenes
Lines & Corners Pattern Packs
Mantel Board Scene Patterns
Mythological Themes
Nautical, Seascapes Packs
New Pattern Package Releases
Oak, Grape, and Fruit Patterns
Oriental Pattern Packs
Pencil Drawings Packs
Religious Themes
Signs, Frames, and Borders
Spirit People, Angles Patterns
Steam Punk and Trendy
Western History, Indians
Wood Spirits and Green Men
Download PDF e-Project Books
US, Americana Pattern Packs
Art Designs Studio Patterns
Art Designs Studio is Lora S. Irish's wood carving, pyrography, and crafts patterns web store with
over 2500 patterns and designs, ready for you to download today.
Line art, shaded drawings, and patterns for wood carving, pyrography, leather carving, applique quilting,
paper crafts, scrap booking, gourd art, and so many more.